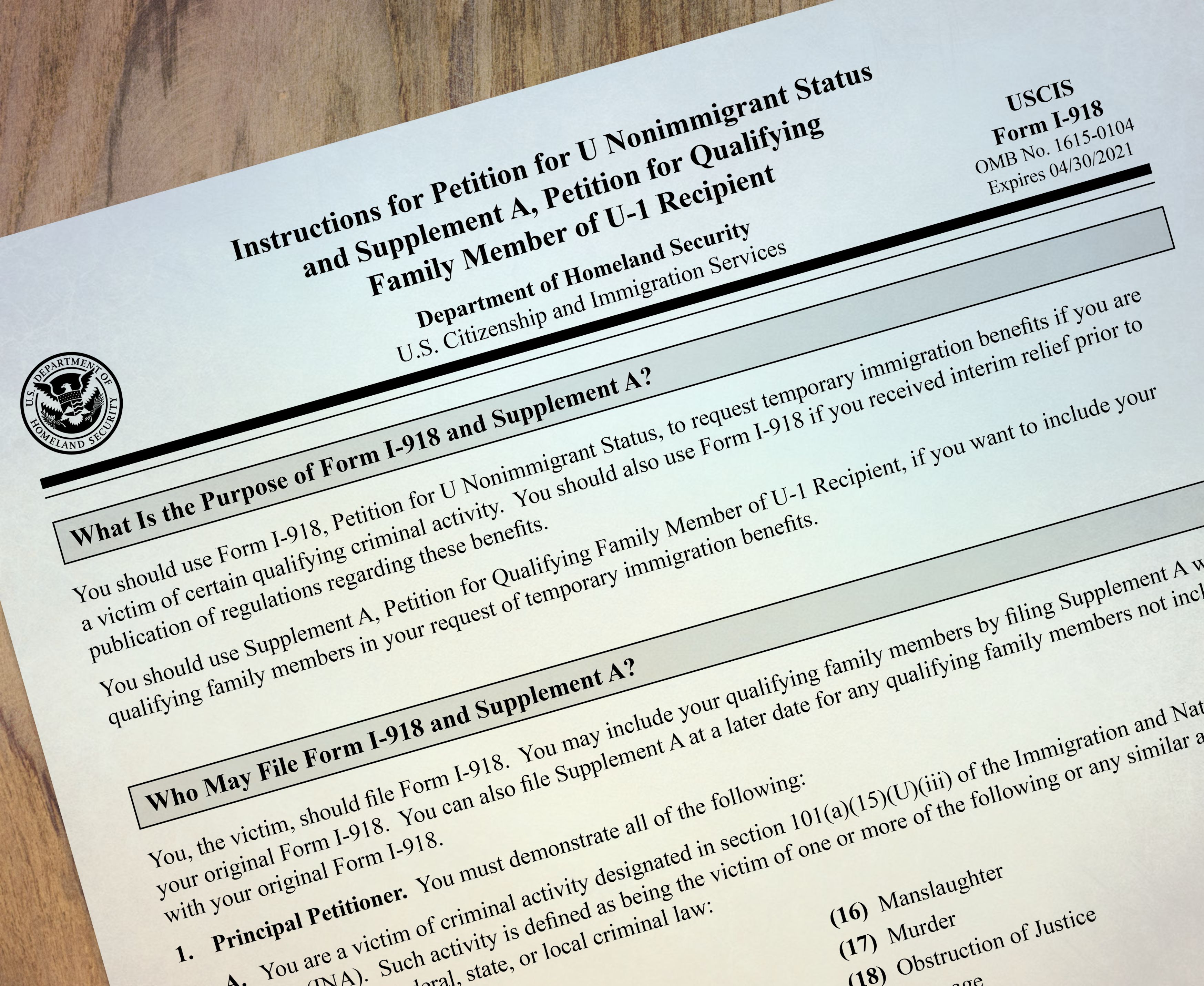 What is a U Visa?
At one time, law enforcement had a difficult time prosecuting criminals who abused undocumented immigrants because the victims feared deportation if they came to the attention of authorities. This is partly why Congress established the U visa, which permits victims of crimes to apply for a visa so they can testify against their abusers without worrying about being deported.
The U Visa was created primarily for victims of domestic abuse and sexual assault, but anyone who has suffered mental or physical abuse because of a crime can qualify. In this blog, we explain what crimes are covered by the U Visa and how an immigration attorney can help you seek justice without fear of removal.

What Crimes Qualify for U Visa Protection?
An individual who has been the victim of certain crimes is typically eligible for a U visa, which usually lasts four years. Once issued, it allows the recipient to live and work in the United States, if they cooperate with government officials and law enforcement in investigating and prosecuting the perpetrators of the alleged crime(s).
In most cases, the U Visa covers criminal activities that involve bodily or psychological harm to victims. If you witnessed these crimes and are willing to aid in the prosecution of the perpetrators, you may still qualify for a U Visa, even if you are not a direct victim.
Qualifying crimes include but are not limited to:
Abduction
Blackmail and extortion
Domestic violence
Female genital mutilation
Human trafficking
Murder
Prostitution
Sexual abuse and rape
Slavery
Torture
Even if you are now outside the U.S., you can apply for a U Visa if you were the victim of a qualifying crime that occurred during your stay here. (The application will take place at the U.S. embassy or consulate in your country.) On a similar note, if a deportation order has been issued against you, you can still seek U visa protection: if your application is approved, a motion will need to be filed to reopen the deportation order with the immigration court.

How Do You Apply for a U Visa?
To apply for your U Visa, you will need to file a Form I-918 for U Nonimmigrant status. Your direct family members, such as spouse and children, unmarried siblings under 18, and parents may also be eligible for visa benefits under this protection, so you need not worry about your application jeopardizing their status. After three years, you may apply to adjust your status to permanent resident and receive a green card.

You Don't Have to Be Afraid to Speak Out
People sometimes take advantage of undocumented immigrants because they presume their victims cannot contact the police to complain. Don't let someone exploit you in this manner. Having the right immigration attorney on your side can help you get the justice you deserve.
If you are wondering if you are eligible for a U Visa, speak to Attorney Ruth Jean at Jean Law Group. She will give you an honest evaluation of your case and explain your legal options moving forward. To schedule a confidential consultation, please call (954) 278-9332 or contact our office online.